Published on:
The number of dental laboratories in the United States has been on a steady decline. In fact, the number of dental labs has decreased by 10% since 2012 (source: IBISworld.com). Many of these are small, family-owned labs with fewer than 10 technicians on staff. Several factors have contributed to this decline, and we'll take a look at some of them in this article.
Highly-skilled technicians were growing older
For decades, small dental labs received a steady flow of work from local dental practices. It was an industry built around relationships and partnerships, so loyalty was essential. Highly skilled technicians made thousands of models and other dental components by hand during their careers, and things were good.
As these individuals grew older and considered retirement, it became apparent that the next generation of technicians was becoming harder and harder to find. The art of hand-made fabrication seemed to be fading away.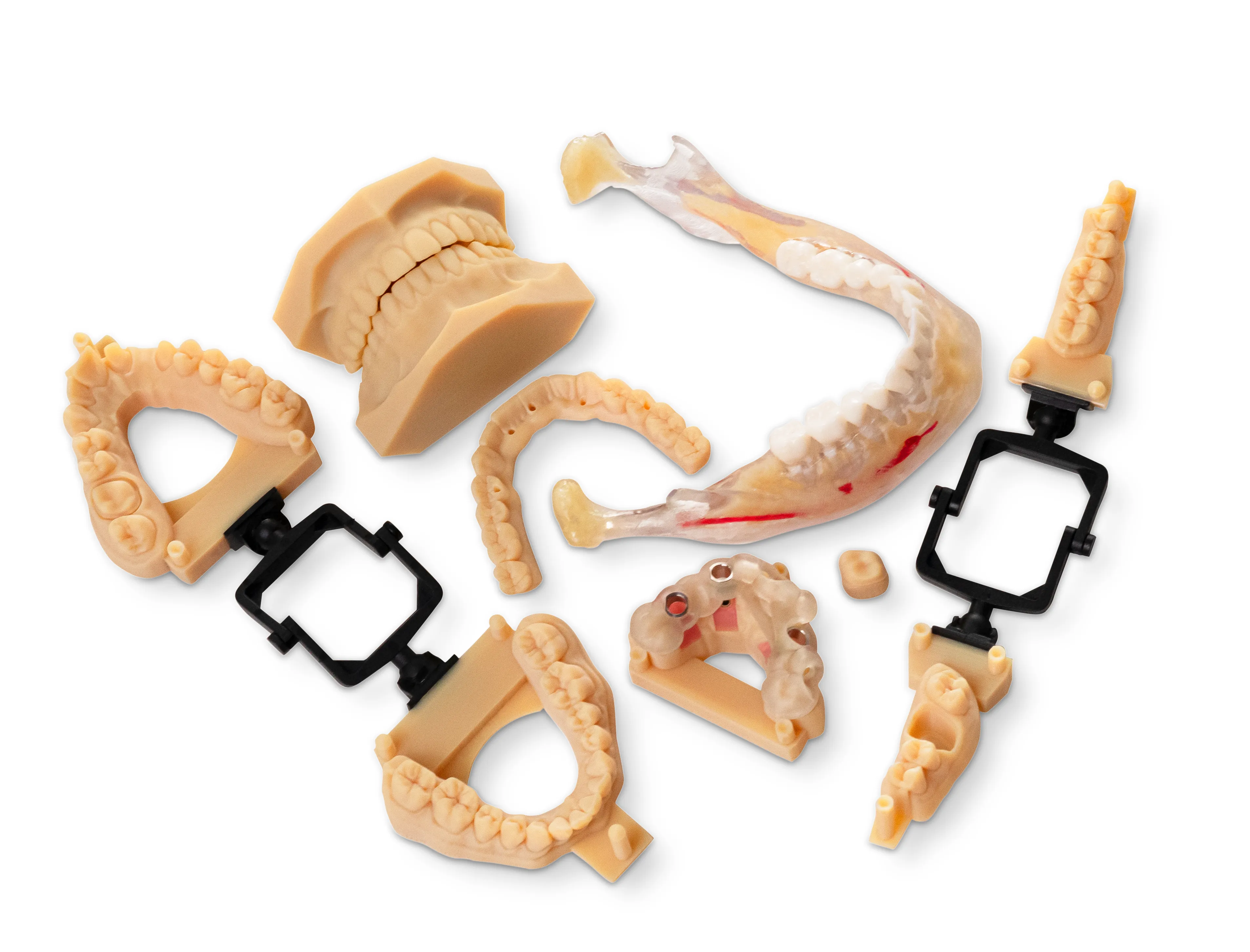 Dental models printed on a Stratasys J5 DentaJet 3D Printer
Digital Dentistry
Digital dentistry first appeared in the 1980s with the launch of a product called the CEREC 1. Developed by a dentist and electrical engineer, the CEREC 1 combined the power of 3D scanning and milling and produced dental components such as ceramic inlays and onlays.
Since then, digital dentistry has revolutionized the industry making it more efficient than ever. While this is great for companies that adopted the technology, labs that didn't quickly found themselves at a major disadvantage. If it takes a lab 2-3 days to go from impression to final part, a digital process could produce it in hours, making it difficult to compete. That's just the speed advantage alone.
COVID-19
The COVID-19 pandemic rapidly accelerated the reduction in dental labs. Quarantine mandates forced dental offices to only accept emergency dental patients, with all elective and preventative visits getting canceled. Without patients being seen, there is no demand for dental components which made it impossible for many labs to stay in business.

The 
Rise 
of Larger Labs
There is a clear trend of consolidation in the industry. Large dental companies saw an opportunity to grow by acquiring smaller labs eager to sell, creating a win-win situation. Instead of dental offices working with their local dental lab, larger labs are building hubs that produce and ship parts across the country.
The Future of Dental Labs
Small Labs
What is the key to success for small labs that don't plan on selling or closing the business? Unfortunately, that's becoming more and more challenging in the new world of dental labs. Local labs need to work harder than ever to build and maintain relationships with their local dental offices, but that's just the start.
They need to embrace technology. Technology like 3D printing can help small labs keep costs low while ramping up production. Ramping up production with 3D printing enables labs to fill orders faster and opens the door to additional revenue streams by expanding into new services.
For some small labs, that means looking into going digital for the first time. Luckily, these labs don't have to figure it out alone. GoEngineer helps labs identify opportunities where 3D printing can be a complementary tool and opportunities to replace manual tasks altogether.
With the right technology and solid relationships, small dental labs still have a place, and they can thrive.
Large Labs
Many large dental labs on the market today got there by acquiring smaller labs. Along with those labs comes a mix of technology and traditional processes. For example, finding a large dental lab without any in-house 3D printing technology would be challenging, but how does that equipment compare to the current class of dental 3D printers?
Like any growing company focused on production, utilizing the right technology can make or break the company. The right technology helps companies control labor costs, generate more output from existing facilities, and 24/7 production, ultimately benefiting their customers.
Suggested Article  >> Dental 3D Printing Technology: PolyJet and P3
Dental 3D printing equipment from GoEngineer is proven to address these challenges with great success. Modern dental technology can dramatically improve current workflows, but it can also unlock a whole new level of what is possible with digital dentistry.
The Progression of Dental 3D Printers
When the 3D printing industry first noticed the opportunity in dental, there was a race to come out with "dental-specific" 3D printing equipment. Often, this was existing technology with very few changes. While this opened the door to the next phase of digital dentistry, the technology wasn't quite ready to go mainstream in the industry yet.
Since then, Stratasys has invested heavily in developing dental technology, including 3D printers, materials & software. Now, they have a comprehensive lineup available to help your business succeed and GoEngineer is here to help you find the right solution. PolyJet and P3 dental printers from Stratasys offer unmatched capabilities such as multi-material printing, vivid color models, simple post-processing, and many more features that put them into a league of their own.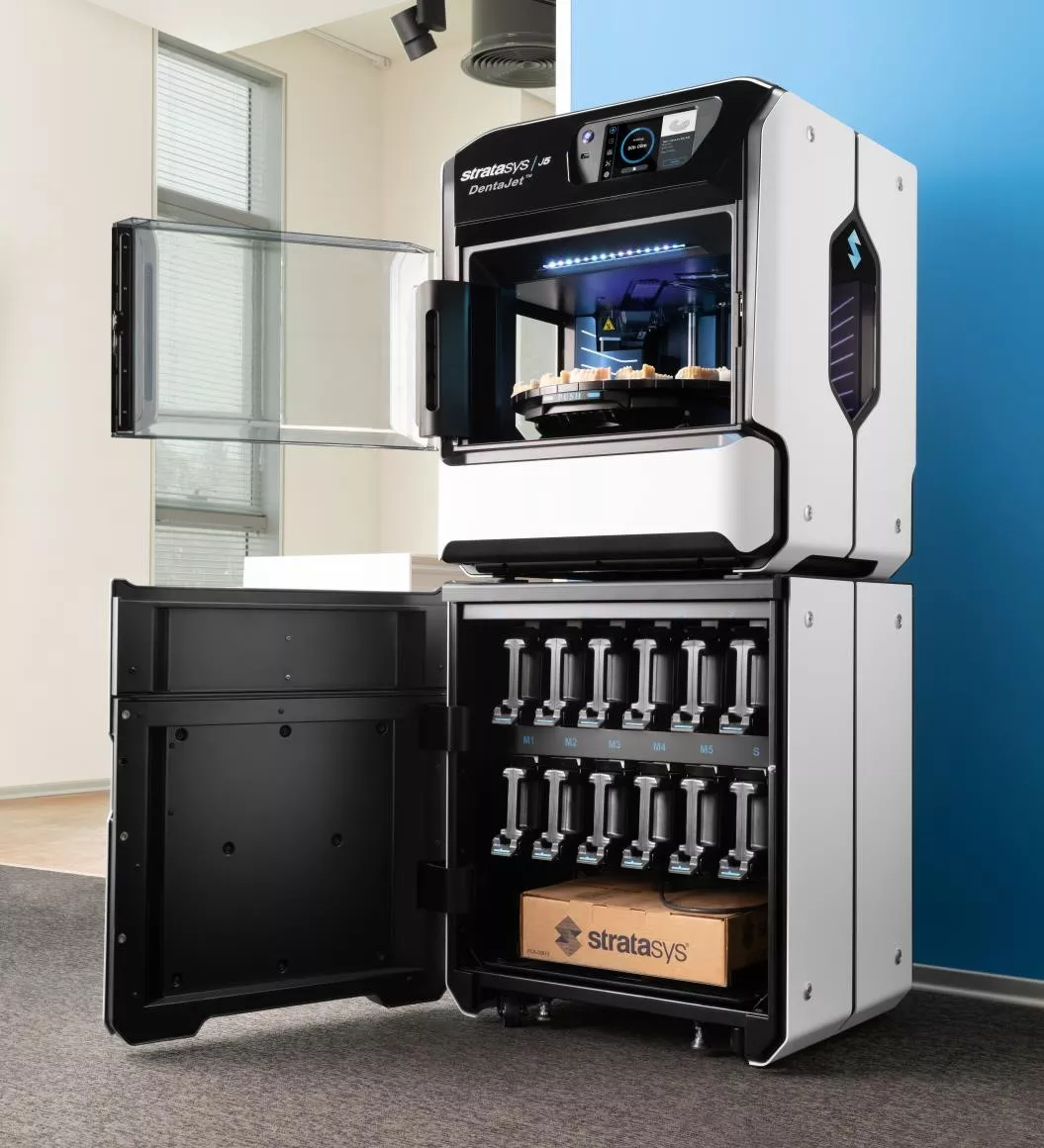 Dental Applications Possible with GoEngineer & Stratasys
C&B, implant, orthodontic, removable, maxillofacial, color models

Surgical guides

RPD frameworks

Custom impression trays

Try-ins

Gingiva masks

Indirect bonding (IDB) trays

Custom impression trays

Clear aligners

Aligner arches

Soft splints
Regardless of the size of your lab, GoEngineer has the experience and the technology to help you grow. It doesn't matter if this is the first time you've looked into 3D printing or if you've been printing for years. GoEngineer is here to help you build a picture of how things are and how good they could be with the right tools and support.
"Incorporating the Stratasys J5 DentaJet into our workflow has been a very easy transition. The nesting software is very user-friendly, consistent, and predictable. The quality of the parts is very good and requires no adjustment. But most importantly, we are easily able to provide a high-quality restoration and consistent end product to our customers." ~ BonaDent Dental Laboratories. 
To learn more about the lineup visit our Dental Resource Center or contact us to speak with one of our dental experts.
Related Articles